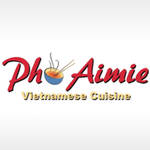 Pho Aimie
2696 W Ann Rd, Ste 101
Las Vegas, NV 89031
Born in Vietnam, raised in Las Vegas, and determined to share our love for authentic Vietnamese cuisine with our community.
At Pho Aimie, we stick to the basics- no gimmicks- just great food. We focus on delicious authentic Vietnamese cuisine with the highest level of customer satisfaction while keeping prices affordable. Our unique cuisine emphasizes the balance of flavors and fragrance as well as texture and color. We provide a large variety of Vietnamese dishes that will cater to all unique taste buds. We keep it classic with some traditional Vietnamese dishes from the heart of Saigon- authentic flavorful pho, vermicelli noodles, rice dishes, spring rolls, and Vietnamese coffee.
Built with the help of family, Pho Aimie provides a cozy community on the corner of Rainbow and Windmill. We encourage you come in and slurp away! Enjoy the savory flavor of our pho bowl! We promise you- it's PHO-nomenal!